Media release
Woodside pays for climate failings with record-breaking vote against director Ian Macfarlane
The Australasian Centre for Corporate Responsibility​ (ACCR) is commenting on the results of Woodside Energy Group's 2023 Annual General Meeting, where a record-breaking vote was recorded against long-standing director Ian MacFarlane, and significant votes were cast against the two other directors standing for re-election.
34.81% against Ian Macfarlane; 13.43% against Larry Archibald; and 10% against Swee Chen Goh.
These results come after institutional investors Vision Super and Betashares, along with ACCR, co-filed members' statements ahead of the AGM calling on directors to be held to account for the board's repeated failure to present a credible climate strategy.
In addition, 20.99% of shareholders voted against Woodside's remuneration report.
Alex Hillman, Lead Analyst at the Australasian Centre for Corporate Responsibility (ACCR) said:
"Today is a pivotal moment for company directors across Australia - climate risk matters and if shareholder concerns are blatantly ignored, director votes won't breeze through an AGM.
"As a long-standing director, Ian Macfarlane has clearly been held accountable for the climate governance failings of the entire board.
"Chair Richard Goyder must reflect on this result and the substantive strategic shift required to regain investors' confidence. This board's culture of ignoring material shareholder votes must end.
"Votes against directors on this scale are unprecedented for Woodside. Until today, only one Woodside director over the last decade had ever received less than 95% support.
"It is also exceedingly rare across the ASX100. In fact, no director on any ASX100 energy company's board has had a vote greater than 15% against them in the last decade.
"One of the very clear reasons for today's record-breaking result is that Woodside's board has repeatedly failed to present a credible climate strategy and investors have had enough.
"This board has overseen a climate strategy that appears to ignore we are in the 21st century. It is an approach completely unsuited to a rapidly decarbonising world, with no plan for scope 3 emissions and a concerning over-reliance on offsets.
"It persists in throwing billions of dollars of shareholder money at new oil and gas projects like it's the beginning of the industrial revolution, not the twilight era for the fossil fuel industry.
"These votes are even more striking considering the record-profits that Woodside has made. It shows that short-term mega-profits don't get you off the hook with investors who understand the value at risk from procrastinating on the energy transition."
Brynn O'Brien, Executive Directors at the Australasian Centre for Corporate Responsibility (ACCR) said:
"This is a globally significant vote against incumbent directors of a top ten global independent fossil fuel producer, and it shows that accountability for climate governance failures has finally reached board level, where it belongs.
"We've seen director 'yes' votes before at major emissions intensive companies -- like Exxon and AGL -- but this is the first major 'no' across an incumbent slate at a top ten independent producer.
"The Woodside board's decision to ignore last year's whopping vote against the company's climate plan has exposed the board's culture to the company's investors; once seen it can't be unseen.
"The days of rubber-stamping binding management resolutions, particularly the election of directors responsible for a recalcitrant approach to climate governance, are over.
"The boards of all emissions-intensive companies have been warned.
"The actions of Vision Super and BetaShares, as co-filers of the members' statement calling for the 'no' vote, should be commended.
"Directors now need to act to reduce real world emissions like their jobs depend on it. Because they do."
Background
Along with Vision Super and Betashares (see here), investors that predeclared votes against one or more directors facing re-election (non-exhaustive list):

LGIM AGAINST Ian Macfarlane
CalPERS AGAINST all three directors up for re-election, AGAINST remuneration,

AP7[1] AGAINST Swee Chen Goh and Ian Macfarlane
MN[2] AGAINST all three directors up for re-election, AGAINST remuneration
KBI Global Investors[3] AGAINST all three directors up for re-election
ActiveSuper AGAINST all three directors up for re-election
Recent Woodside director votes [4]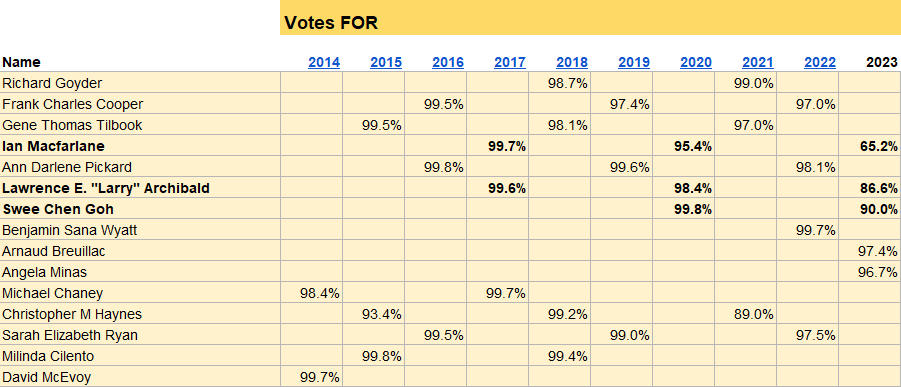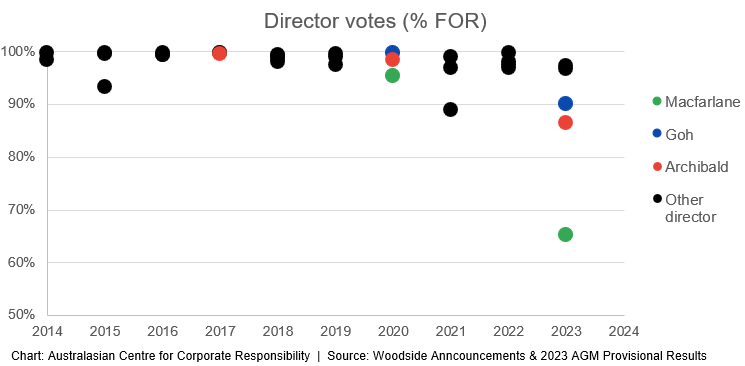 ---