Media release
Majority of AGL shareholders demand alignment with the Paris Agreement
The Australasian Centre for Corporate Responsibility​ (ACCR) is commenting on the results of AGL Energy's (ASX:AGL) annual general meeting, at which ACCR's shareholder resolution calling for Paris-aligned targets was supported by 52.56% of shareholders.
ACCR's investor briefing on the resolution can be found here.
Dan Gocher, Director of Climate & Environment at the Australasian Centre for Corporate Responsibility (ACCR) said:
"An overwhelming majority of shareholders in AGL has sent a resounding message to the board of AGL: align your business with the Paris Agreement.
"The erosion in shareholder value appears to have finally united shareholders behind this push.
"AGL has committed to publishing emissions reduction targets in the demerger scheme documents. Shareholders have demanded that those targets be Paris-aligned.
"According to the IEA and the IPCC, alignment with the Paris Agreement means closing coal-fired power stations by 2030.
"To date, the board of AGL has abjectly failed to heed the multiple warnings of the IPCC, the UN and countless scientific bodies by failing to set Paris-aligned emissions targets, while concurrently, failing to comprehend the pace of the energy transition.
"AGL Chair Peter Botten's claim that AGL cannot set Paris-aligned targets unilaterally is nonsense. Botten claimed the board is trying "to create a glide path rather than a crash landing", which ignores the crash that AGL shareholders have already experienced.
"AGL's claim that it is not in position to commit to develop the necessary replacement capacity for its coal-fired power stations doesn't stack up. 10-15 years is ample time to develop the replacement capacity with renewable energy and storage.
Background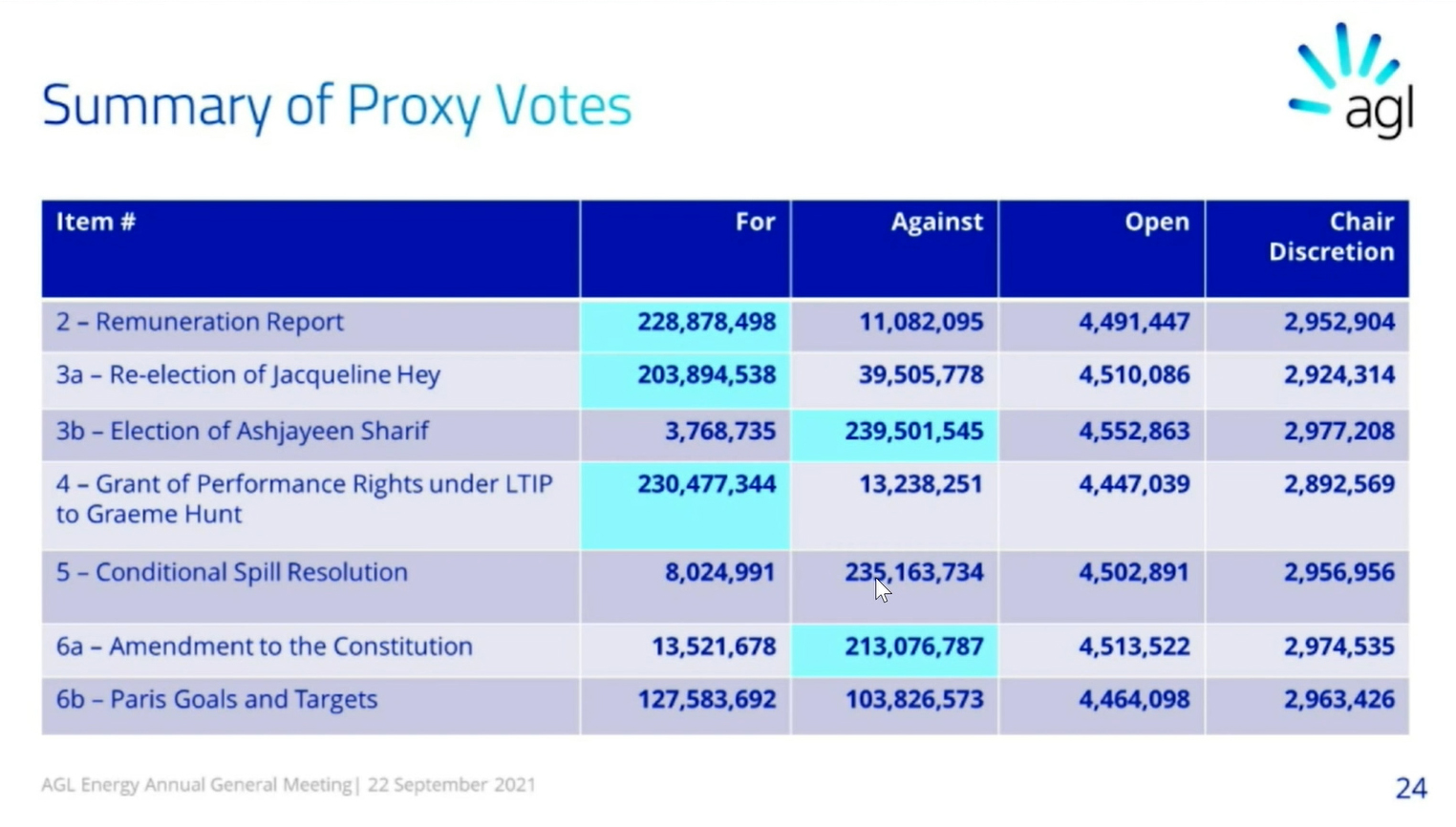 AGL Energy Carbon Intensity, 2015-20
| tCO2e/MWh | FY15 | FY16 | FY17 | FY18 | FY19 | FY20 | FY21 |
| --- | --- | --- | --- | --- | --- | --- | --- |
| Average market intensity | 0.91 | 0.90 | 0.88 | 0.82 | 0.77 | 0.72 | 0.70 |
| AGL operated intensity (all) | 0.97 | 0.96 | 0.98 | 0.97 | 0.95 | 0.94 | 0.95 |
| Bayswater | 0.90 | 0.95 | 0.95 | 0.94 | 0.93 | 0.95 | NA |
| Liddell | 1.00 | 1.01 | 0.98 | 0.97 | 0.96 | 0.99 | NA |
| Loy Yang A | 1.30 | 1.28 | 1.30 | 1.29 | 1.26 | 1.26 | NA |
Source: AGL Energy, Results Presentations 2015-21, FY19-21 ESG Data Centres
AGL Energy Electricity Output by Primary Energy Source, 2015-21 (GWh)
| GWh | FY15 | FY16 | FY17 | FY18 | FY19 | FY20 | FY21 |
| --- | --- | --- | --- | --- | --- | --- | --- |
| Black coal | 19,832 | 24,489 | 24,042 | 22,764 | 23,900 | 24,928 | 20,416 |
| Brown coal | 14,833 | 14,395 | 14,544 | 15,517 | 14,641 | 13,456 | 15,011 |
| Wind | 2,465 | 2,558 | 2,271 | 2,649 | 2,918 | 3,524 | 4,196 |
| Gas | 1,629 | 2,520 | 2,827 | 2,784 | 2,557 | 2,471 | 2,182 |
| Hydro | 1,155 | 1,164 | 834 | 814 | 1,175 | 715 | 581 |
| Solar | 9 | 316 | 354 | 374 | 364 | 318 | 329 |
| Landfill gas, biomass and biogas | 111 | 103 | 110 | 126 | 23 | 0 | 0 |
| Diesel | 1 | 2 | 1 | 2 | 3 | 2 | 0 |
| | | | | | | | |
| Renewables % | 9.06% | 8.87% | 7.69% | 8.52% | 9.78% | 10.03% | 11.95% |
*All coal
**All renewables
Source: AGL Energy, FY19-21 ESG Data Centres