Briefing note
2021 climate plan voting guidelines
The first Say on Climate votes on climate transition plans will take place this month with European and US company AGMs. These votes will be focused on the adequacy of the targets and actions companies plan to take over the next 30 years to reduce greenhouse gas emissions. Say on Climate votes are not about rewarding boards for taking a much needed first step, nor are they about incremental improvements in emissions performance or strategy to date.
The only question that shareholders should be seeking to answer when they cast their vote is this:
Does the company's climate transition plan show a credible, detailed, Paris-aligned pathway to zero emissions by 2050 (or sooner)?
In advance of the upcoming Say on Climate votes in April and May (Table 1) we are sharing our initial views of the key issues that should guide voting on climate plans this year. We reference the CA100+ Net Zero Company Benchmark, acknowledging its usefulness in focusing on key aspects of disclosure, we then also set out the criteria we believe need to be met for a climate transition plan to be assessed as credible.
Table 1: Key Say on Climate votes in April and May 2021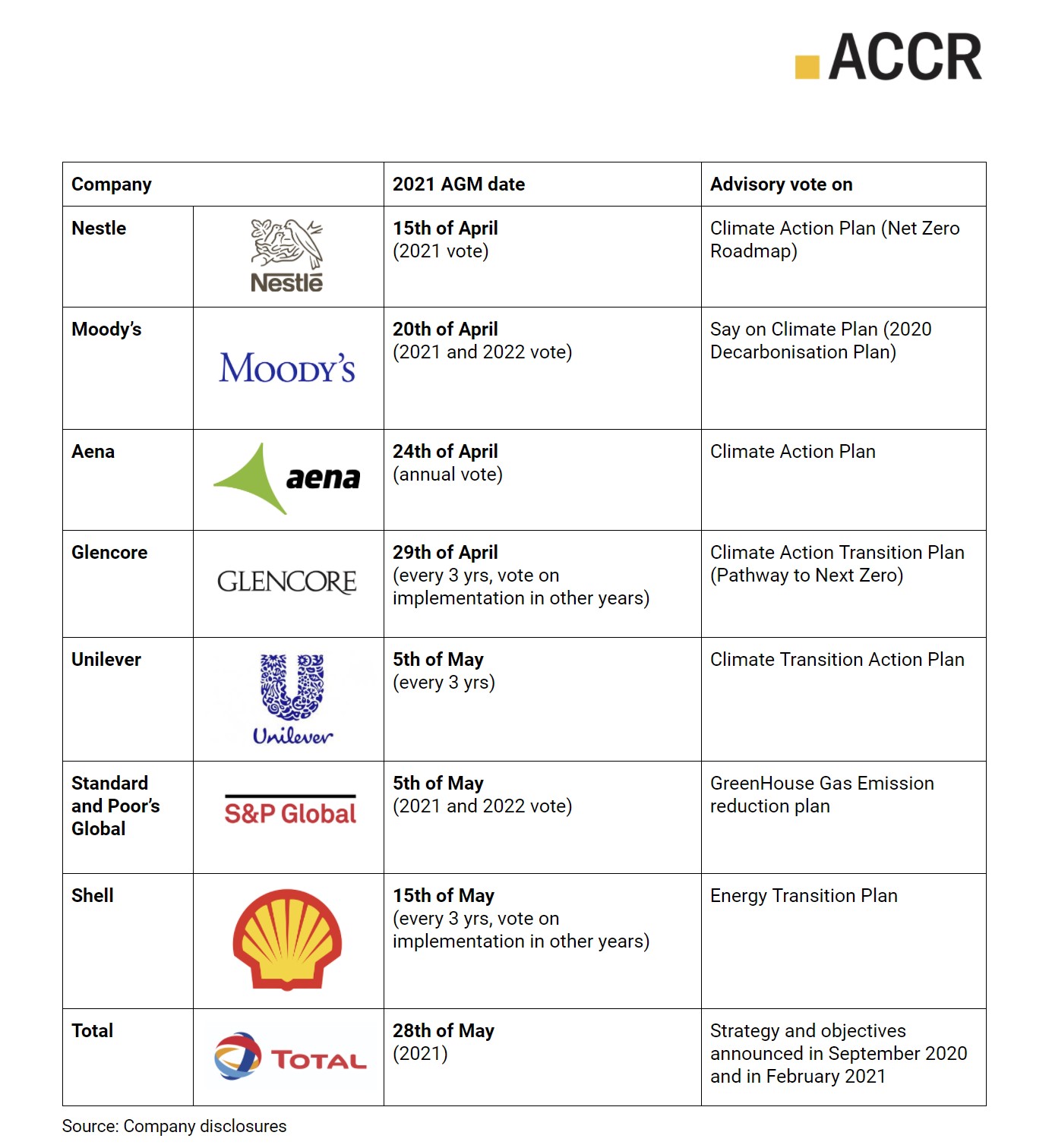 2021 Climate plan voting guidelines for climate transition plans
Vote against plans where any of the following are not met:
Targets
1.1 The company has set both short-term (2021-2025) and medium-term (2026-2035) absolute emissions reduction targets on a clearly defined set of emissions including scope 1, 2 and 3, that represent at a minimum 95% of total emissions (inclusive of scope 1, 2 and 3).
1.2 The company demonstrates that the trajectory of its short-term and medium-term targets (guideline "1.1.") is aligned with the Paris Agreement goal of limiting global temperature increase to 1.5°C with low or no overshoot. This must be supported by a credible science-based methodology, for example the Science Based Target initiative. This would require at a minimum a "Yes" assessment on the CA100+ Net-Zero Company Benchmark indicators addressing medium and short-term target Paris-alignment, 3.3 and 4.3.
Strategy
2.1 For each short-term and medium-term target (guideline "1.1."), the company identifies the main actions it is taking to reduce emissions and quantifies the absolute emissions reduction expected from each action over the target timeframe.
2.2 For each short-term and medium-term target (guideline "1.1."), the company quantifies the intended contribution of carbon offsets, negative emissions technology, Carbon Capture Utilisation and Storage (CCUS), avoided emissions, and divestment of assets. Note: Reliance on these abatement methods should be limited and definitions of acceptable use will be explored in future guidelines.
Capital expenditure
3.1 The company commits to and demonstrates how its future capital expenditures align with its Paris-aligned short-term and medium-term emission reduction targets (guideline "1.1.").
Climate policy engagement
4.1 The company achieves an InfluenceMap score of C+ or above.
Climate governance
5.1 Executive remuneration incorporates performance linked to short-term and medium-term absolute emissions reduction targets (guideline "1.1."). Any compensation linked to an expansion of fossil fuels extractive activities should preclude a yes vote.
We have summarised our voting guidelines in the table below.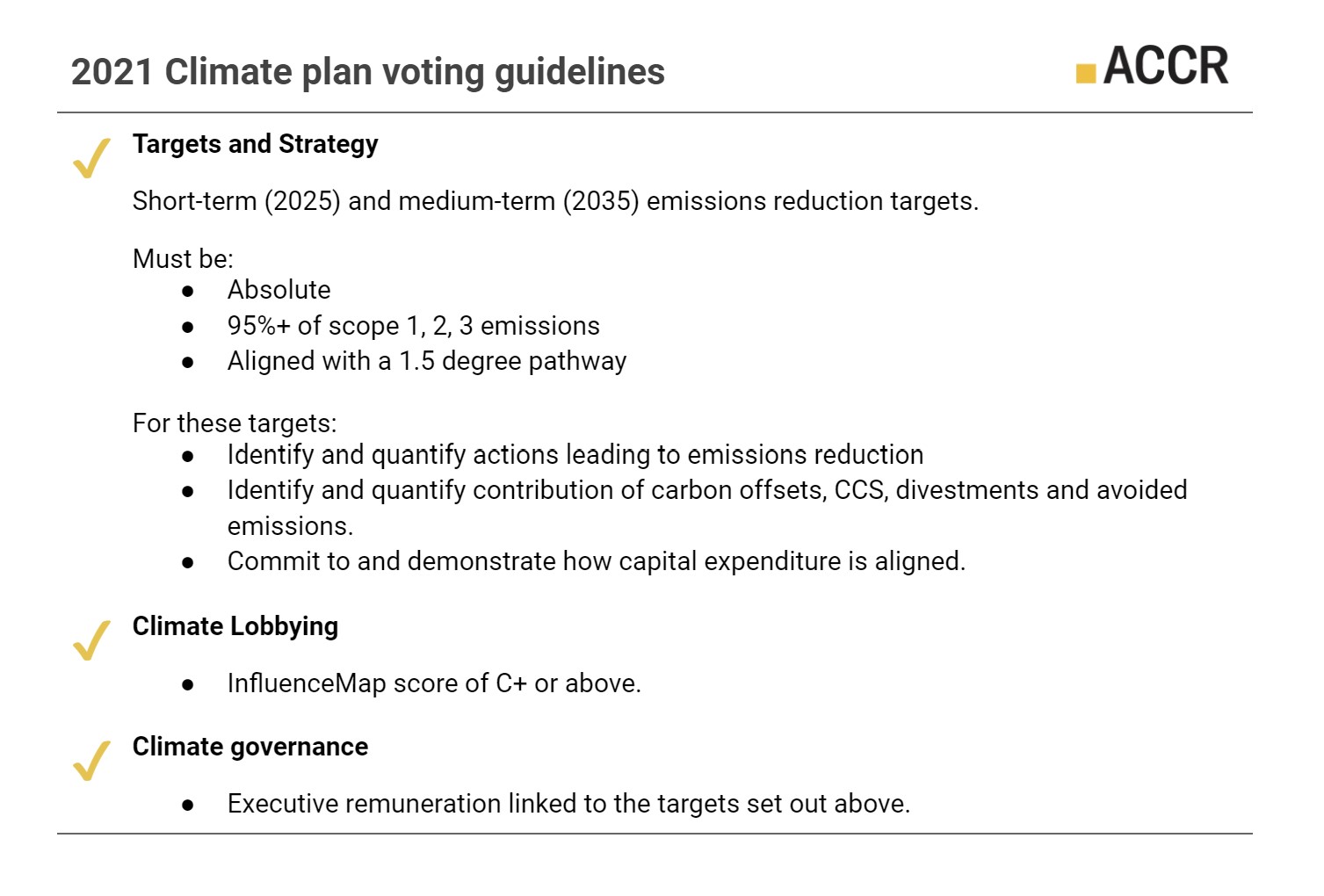 Download the analysis of our case study: Royal Dutch Shell plc (Shell)
We welcome feedback on our guidelines ahead of the Australian AGM season. Please email consultations@accr.org.au or contact us to organise a meeting.