Media release
"Poor corporate governance": Woodside ignores investor concerns on its climate strategy
The Australasian Centre for Corporate Responsibility​ (ACCR) is commenting on Woodside's 2022 Climate Report released today. This report follows the dismal Say on Climate vote at Woodside's AGM last year, where 49% of Woodside shareholders voted against the company's 2021 Climate Report.
Commenting on the updated climate report, Alex Hillman, Lead Analyst at the Australasian Centre for Corporate Responsibility (ACCR) said:
"Energy market turmoil in 2022 has allowed fossil fuel companies like Woodside to make huge profits. It has also driven energy markets to shift to renewables at the fastest rate ever, meaning any windfall profits are short-lived.
"Despite the accelerating energy transition, Woodside's response in its 2022 Climate Report is to stick with an out-dated strategy that has already been rejected by nearly half of its investors.
"Today, Woodside remains stubbornly rusted on to its underwhelming 2021 climate plan, saying its "strategy remains consistent". This failure to respond in a meaningful way to overwhelming investor feedback puts the issue of poor corporate governance firmly on the table.
"Investors demanded scope 3 targets last year. Rather than deliver, Woodside has listed a spurious range of reasons for why scope 3 targets are all too hard.
"Regardless of material investor concerns about the company's overreliance on offsets, Woodside has confirmed it still plans to use offsets to meet 100% of its restated scope 1 emission reduction target. This is simply lazy, lacks any innovation and shows the company is stuck in the 20th century.
"Woodside has faced two record breaking shareholder votes against its climate risk management strategy. This lack of responsiveness suggests Woodside's board is now displaying a concerning disregard for sound corporate governance.
"Woodside's directors have a tin ear on climate risk and it's time they were called to account."
Background
In 2020, 50% of Woodside's shareholders voted for an ACCR resolution asking for the company to do better on climate risk management. In 2022, Woodside received the largest vote against its 2021 Climate Action Transition Plan of any company since the Say on Climate mechanism was introduced.
Say on Climate is a global initiative, where companies develop climate strategies and offer shareholders a vote at a general meeting. There have been 61 votes to date and Woodside's has secured the lowest vote globally. The average vote against these plans has been 7.75%, whilst 49% of Woodside shareholders voted against the company's 2021 Climate Report.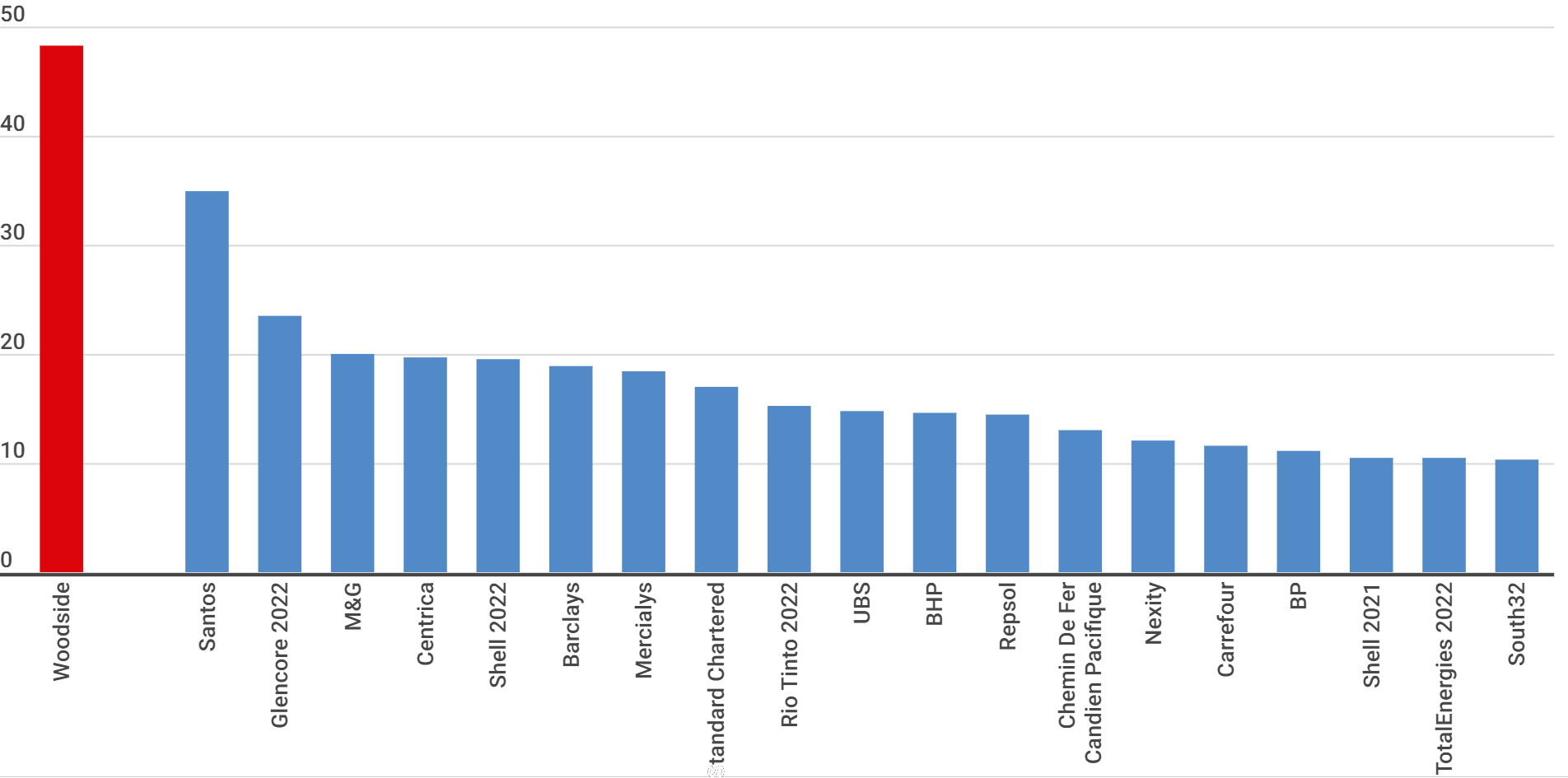 Votes against SoC resolutions that had at least 10% vote against the plan (%; MSCI)