ACCR Company Engagement J-POWER
Electric Power Development Co Ltd (J-POWER) is the sixth largest energy utility in Japan.
J-POWER (TYO: 9513) is Japan's largest coal power operator, reporting 64.88 million tonnes of CO2 emissions in FY2020 (equating to 5.6% of Japan's total emissions). J-POWER has interests in 17 power projects around the world - fueled by gas, coal, hydro and biomass. It also has investments in Australian coal mines.

In 2023, ACCR co-filed with Amundi and HSBC Asset Management on new shareholder resolutions that are supported by Man Group. The investor group also signalled an intent to vote against the director principally responsible for J-Power's climate strategy.

In 2022, ACCR and a US$3 trillion investor group including Man Group, HSBC Asset Management and Amundi filed three shareholder proposals for consideration at J-POWER's ordinary general meeting of shareholders. They received support from 26% of shareholders.

ACCR and the investor groups have been engaging privately with J-POWER on its decarbonisation commitments and strategy since January 2022.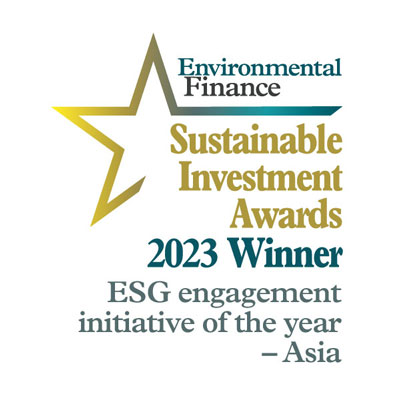 ESG engagement initiative of the year, Asia: Investor coalition at J-Power

The initiative, representing around $3 trillion, became the first institutional investors to file a climate resolution in Japan when it called for more ambitious action by J-Power. The coalition was formed in January 2022 by the Australasian Centre for Corporate Responsibility and is made up of Man Group, HSBC Global Asset Management, and Amundi.

Man Group told Environmental Finance it was "delighted to receive this award on behalf of the co-filing group". It said this "recognises the significance of these pioneering climate shareholder resolutions by institutional investors in Japan".